Gene LeBell started young in the world of fighting. Gene's mother, Aileen Eaton, owned and operated the Olympic Auditorium. The Olympic was built in 1927 for the Olympic Games in 1932. It has housed some of the greatest boxers and wrestlers of all time - Gene was warming up the mat with them as early as age 6, One wrestler in particular, Ed "Strangler" Lewis, started Gene off in the "World of Grappling" [not wrestling, wrestling has different rules], Ed explained that with grappling you could do just about anything to your opponent. You could hit the guy, do heel locks, ankle locks, armbars, back locks, neck locks, tweak the nose or choke him out.
Needless to say, when Gene entered his first out of school judo tournament at the age of 14, the officials were horrified to see Gene performing "Illegal" grappling moves on his opponents - tossing them into the air as if they're as light as feathers, jumping on them, dropping elbows on them, and simply terrorizing his competitors. Unfortunately it was a short day for Gene, the officials ended up disqualifying him from the event stating that he used too much strength. "I don't count disqualifications as losses. If you've never been disqualified, you've never been afraid of your opponent."
Undaunted, Gene worked even harder to improve his skills, training every day in martial arts and boxing, and competing in tournaments on the weekends. Gene was gearing up for something big.
At the age of 20, Gene LeBell had 14 years of hardcore training from the best in the world, and he set his sights on the National Judo Championship in 1954 at the Kesar Pavilion in San Francisco. Gene tore through the ranks of competitors with everything he had. After the smoke cleared, Gene LeBell was the last man standing - he had won the National AAU Heavyweight Judo Championship and the USA Overall Judo Championship back to back. Skeptics called it a fluke - they said that Gene had more luck than talent, and wrote him off. Gene has often said "the harder you work, the luckier you get." He came back and took the national championships again in 1955, this time at the Olympic Auditorium where he had trained during his youth.
After taking two consecutive Judo Championships, Gene decided to try his hand at Pro Wrestling. "I had won over 200 trophies, and if I cashed them all in, they wouldn't make a single house payment." The highlight of his professional wrestling career was in Amarillo Texas when he beat Pat O'Connor (from Australia) for the world's heavyweight wrestling championship. Then, while flaunting the championship belt, Gene accidentally hit the commissioner and split open his head. Even though it was an accident, Gene was disqualified, and his belt was taken away. "At least I was the champ for 12 seconds." Unbelievably, lawsuits were actually filed against Gene, and he decided to take a trip to Hawaii while the heat died down.
On Dec 2 1963, in Salt Lake City Utah, Kenpo master Ed Parker told Gene about a "Boxer" named "Jim Beck" - a man who claimed that a professional boxer could easily best any martial artist. Gene agreed to step into the ring and prove Jim wrong, but upon arrival Gene realized that they had pulled a bait-and-switch; instead of Jim Beck stepping into the ring,
Gene was facing off with Milo Savage - the no "5" ranked light heavyweight boxer in the world. Unfazed, Gene held true to his end of the bargain and took his place in the ring. Milo Savage was wearing brass knuckles - not only that, Milo was greased from head to toe, making it nearly impossible to keep a hold of him. After 4 hard fought rounds, "Judo Gene LeBell" choked out Savage, and to the dismay of the fans "Boxer" Milo Savage stayed out for 20 minutes.
Roots of Fight - Gene LeBell vs Savage featuring Ronda Rousey from Roots of Fight on Vimeo.
During Gene's more than 25 years of wrestling he did far more than wrestle. He was also doing stunt work for movies and television, and still is today. In his ongoing career to date, Gene has appeared in more than 1,000 movies and TV shows.
"Judo Gene" is considered one of the greatest martial artists of all time, in addition to being a teacher of champions.
He has taught grappling to such greats as Bruce Lee, Chuck Norris, Benny "the Jet" Urquidez, Gokor Chivichyan, Bob Wall, Ed Parker, Hayward Nishioka, and Bill "Superfoot" Wallace just to name a few. Gene says "It wasn't a one-way street. I learned a lot from each of these champions."
Gene LeBell has made a tremendous contribution to the martial arts community, and though he will stoutly deny it, he is admired and appreciated by nearly all of the greatest fighters alive today.
 Interesting "Judo Gene" Fact:
People always ask, why does "Judo Gene" wear a "Pink Judo Gi".
Well, the story goes that while competing in Japan he needed his Gi washed so he asked some Japanese ladies at the Hotel where he was staying if they knew of a place that could wash his Gi, of course they volunteered their services, now, they either were practical jokers or they didn't realize that you can't wash whites and reds together.
Gene needed to compete that day and it was to late to purchase a new Gi, so he entered the tournament in his freshly washed "Pink Judo Gi", of course everyone laughed at the tournament and they jokingly named him the "Cherry Blossom Judoka".
Naturally being the bold individual that he is "Judo Gene" has proudly worn a "Pink Gi" from that point on as his trademark. 
Friendly Tip, don't laugh at Judo Gene when he's in his "Pink Gi", because he will choke you out and make you pee your pants...
"When in doubt, choke 'em out!" -- Judo Gene LeBell
Some are suprised to discover that Gene got his pioneer spirit from his mother Aileen Eaton, former owner of the Olympic Auditorium in Los Angeles for 38 years. She was one of the only female boxing/wrestling promoter's in the history of those sports. Not only did Muhammad Ali fight for her, but so did legends such as Sugar Ray Robinson, Sonny Liston, Joe Frazier, Archie Moore, Henry Armstrong, Gene Fullmer, Emile Griffith, Floyd Patterson, Lauro Salas, Ike Williams, Mando Ramos, Danny Lopez, Carlos Palomino, Jimmy Carter, Art Aragon, Sugar Ray Ramos, Carlos Ortiz, Willy Pep and so many more.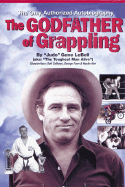 One can easily see why Gene LeBell would grow up to become the world class athlete, competitor, and teacher he is.
Gene Lebell: JUDO 9th dan [Red Belt] under USJF & USJA.
Note: In judo the Sensei of this rank can choose to wear either a Black or Red belt on the mat.
Gene Lebell: JIU JITSU 10th degree [Red Belt] "Chief GM Master Belt" under Hayastan Jiu-jitsu.
SOURCE: genelebell.com