A promise from USA JUDO President Lance Nading to James Pedro Sr. (Above) that all problems will be fixed...
Promise was made by USA JUDO President Lance Nading on July 22, 2013...
~~~~~~~~~~~~~~~~~~~~~~~~~~~~~~~~~~~~~~
To All USA Judo Members & Affiliates,  
Updated 2:55 pm pacific standard time July 22, 2013.
USA Judo has read the letter that I posted today, I have removed my letter after speaking with the

USA Judo President Lance Nading I was "promised" & "assured"

that all the problems we have and have had with our athletes will be taken care of and we will FINALLY have our program in place for the next three years so we can accomplish our goals at the 2016 Olympic Games.
I would like to personally thank everybody who read and supported my letter. Hopefully, USA Judo will be on the upswing again. 
Thank You,
Jim Pedro Sr.
See original letter below...
~~~~~~~~~~~~~~~~~~~~~~~~~~~~~~~~~~~~~~~~~~~~~~~~~~~~~~~
Letter from James Pedro SR.
AN OPEN LETTER TO ALL USA JUDO MEMBERS & AFFILIATES... "VERY IMPORTANT NEWS ABOUT USA JUDO"
"Original letter Posted 10:20 am July 22, 2013"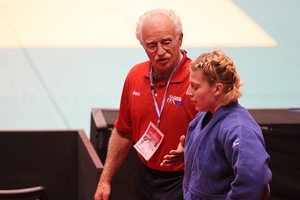 Our top three athletes in the United States entered into an agreement with USA Judo after the 2012 Olympic Games in London. All three athletes up until this point have fulfilled all requirements of the contract and USA Judo has NOT. As of July, USA Judo is 4 and a half months BEHIND in athlete payments.
I feel that this is unacceptable. The athletes are supposedly receiving two months of back pay this week at some point. This will STILL leave them 2 and a half months behind. I do not believe this is fair for our athletes to be constantly on the lookout for a check in the mail everyday in order for them to pay their bills. The checks never come. I have been dealing with this issue as far back as when
Ronda Rousey and numerous other elite athletes were competing and NOTHING has changed. The only change that USA Judo made was two years prior to the 2012 Olympic Games and now post Olympics we are right back where we started. Everyone wonders why Ronda Rousey "bad mouths" USA Judo. Not everything she says is completely true but SOME of it is.
USA Judo also wonders why people do not want to donate money to their organization to help fund our athletes. Evidently our athletes do not come first. Over the years every time I call to have this situation rectified they give me one excuse after another. They "have to pay this and have to pay that" BEFORE our athletes. I would like to present a possible solution. What if we took all the paid salaries at USA Judo and paid the athletes first. I would bet that it would not take 4 and a half months to come up with the missing salary dollars.
Another point I'd like to address is that we have a High Performance budget committee, and not one person knows where the money is being spent. Again, two years prior to the 2012 Olympic Games, everyone sat down and had a budget along with a two year plan and EVERYONE knew where all the money was to be going and now in 2013 we are right back to where we started. After the 2012 Olympic Games USA Judo, along with myself, set in motion a "Winning Program/Plan" but it is NOT being followed.
To all USA Judo Members who are concerned and care about their athletes, you should START ASKING QUESTIONS. I would also like to state that I have attempted numerous times to have this issue rectified though the proper channels and NOBODY has gotten back to me. I even took the time to discuss this issue, in person, at the USA Judo Grand Prix in Miami, FL along with two follow up phone calls on July 19, 2013. I firmly believe that the athletes should come FIRST!!! We had them put their lives and careers on hold for another four years. Help!!!
James Pedro, Sr.
Pictured from left to right: Kayla Harrison, James Pedro Sr., Ronda Rousey.
Letter also posted, by Kayla Harrison, on Facebook 
NOTE: judotalk.com does not support, endorse, or take sides on this topic. We
are only getting these letters out to the USA JUDO community so that they can be
informed on the current state of affairs as it relates to the JUDO Funding agreement
with USA JUDO and other issues as reported by James Pedro Sr. . 
We welcome a response from USA JUDO to counter these allegations or anyone else in the JUDO community that is familiar with this alleged issue...
Thanks
JT_Development