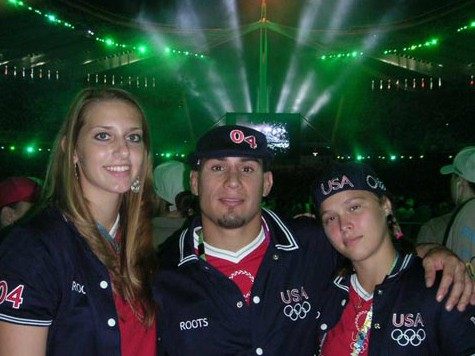 by Daniel J. Flynn Dec 18, 2014
"Training for the Olympics was harder," Rick Hawn bluntly admits of his transition from judo to mixed-martial arts (MMA). "It doesn't pay as well as fighting. You're in debt and looking for sponsorship."
This Friday night at the Tsongas Arena in Lowell, Massachusetts, the former Olympian steps into a cage in front of CBS Sports Network cameras to take on Carlo Prater, a submission specialist and veteran of 46 professional fights, including victories over Carlos Condit, Melvin Guillard, and Spencer Fisher.
"He been around for a while," Hawn tells Breitbart Sports. "He's been in the UFC, Bellator, Strikforce. He has about fifty fights—more experience. He's definitely a submission guy, so I'm working on my jiu jitsu as always."
As Brazilian jiu jitsu (BJJ), the alien fighting style that allowed 170-pound Royce Gracie to make fools of larger men two decades ago, has become victimized by its own success, Hawn's unique skillset plays a role not unlike BJJ did during the infancy of professional MMA. It's foreign. Judo's rareness makes it a discipline that fighters generally don't train to defend against and therefore unanticipated when it appears in bouts. When fans think about cage fighters, wrestlers, kickboxers, and BJJ specialists come to mind. Judo rarely does.
"Everyone assumed that everything could beat judo," UFC 135-pound women's champion Ronda Rousey lamented on the UFC 175 conference call this summer. "I was always completely annoyed by the complete lack of respect the sport got."
It annoys Rousey's Olympic teammate, too. But Hawn sees the lack of respect, like the lack of familiarity with BJJ in the UFC's early days, as a benefit for a practitioner of judo. "Definitely," Hawn says of the advantage the judoka enjoys because of its fringe spot within the sport. "You can train wrestling all you want. But for the most part the [judo] takedowns are different. The grippings are different."
So are the aesthetics. Judo puts the "art" in mixed-martial arts. Whereas MMA's small-gloved striking repels onlookers as brutal, judo's graceful throws and technical trips strike viewers as beautiful. It's fan-friendly, especially for fans not currently friendly toward MMA. When Hawn takes an opponent for a ride, the viewers come along for the exhilaration as well.
"You don't see the big throws in MMA," Hawn explains. "You see the double leg from a high level wrestler. But it's not the same. When it happens, it's definitely a treat for the fans." And it's often a surprise for Hawn's foes.
Though Hawn competed on a bigger stage than the cage at the 2004 Olympics, and has compiled an 18-4 record in mixed-martial arts, the UFC has yet to come calling. He says he takes great pride in the success of Rousey, Hector Lombard, and other elite judokas competing in the sport's premier promotion. "I know Ronda," he explains. "She came to the fifth fight I ever had. She said, 'I'm thinking about fighting.'"
He says the woman wearing UFC gold remains the girl that competed with him at the Olympics. "I don't believe anything from a reality show," Hawn explains of the portrayal of Rousey as an unhinged villain on The Ultimate Fighter. "It's all predetermined. They're making drama up." Instead of reality television, he believes the reality of the young woman he trained with, calling her "very competitive" and one who "didn't take any BS. Judo's a very rough sport. You have to have that mental switch to be successful. You have to be mean to get what you want…. It's about being a winner. Some people say she was cocky and rude and unsportsmanlike. We don't know what the other person did."
Though Hawn appreciates his opportunity in Titan FC, he'd like a crack at joining Rousey and Lombard in the UFC. "For a while, I gave up the thought of getting there. I was fine with that… The UFC has been the organization that's been around. That's the NBA, that's the NFL that everyone wants to get to." He does, too, but maintains that "at this point, it's not on my radar."
Carlo Prater is.
And he won't defeat him Friday night by judo alone. Hawn uses the martial art in a direct sense to set up his striking, as he did in his Bellator debut by knocking out LeVon Maynard after a throw enabled strikes from the top position. But in a more oblique way, Hawn's judo base facilitated his transition into a heavy-handed striker boasting 11 knockouts.
"I've heard from coaches, striking is a GOD-given thing" and that it's developed, Hawn tells Breitbart Sports. "I think it's a little of both. In judo, you have explosion in your hips. The years of judo have developed the power that I have with striking."
Just six-years-young as a mixed-martial artist, the Olympian views himself as a fresh 38 and MMA as a cushier job than his old profession.
"For me, judo is a young man's sport," the nearing-40 cage fighter ironically observes. "It's so hard on the body to do that."
avgadvantage  
Exclusive Web Ordering Portal page for UFC only. 
SOURCE: